Fitness Services
Personally Fit, Inc. is a 10,000 square foot fitness facility, with advanced exercise equipment to meet all of your fitness needs, unique fitness classes for all ages and abilities, and an experienced personal training staff. Our friendly, non-intimidating atmosphere is ideal for individuals interested in beginning or continuing a fitness plan with or without medical and/or specialized supervision. Our advanced personal training and rehabilitation staff can also develop programming for the individual with a more extensive fitness background, interested in a more rigorous, but safe and effective workout. Whether your needs involve rehabilitation, general fitness, or advanced exercise instruction, Personally Fit, Inc. has the personnel, facility and comfortable environment, just for you! Click here for membership information.
Personally Fit, Inc. is unique because...
We offer physical therapy and rehabilitation as well as fitness services, all in the same environment, which contributes to a healthier, safer, exercise program for you!
Our personal training staff have college degrees in exercise science/kinesiology, with specialized certifications in a variety of areas including Pilates, Yoga, Fall Risk Reduction, Osteoporosis Prevention, Breast Cancer Rehabilitation, Golf Fitness, Back Rehabilitation, and much more!
Our physical therapy staff is involved in the development and supervision of our programming, which provides for unique, rehabilitation-oriented equipment and class programming!
Our facility maintains a lower density of members than the traditional fitness center, which means no waiting in line for equipment, and more efficient exercise for you!
Our service is PERSONAL and we want you to be PERSONALLY FIT!
Personal Training
Here at Personally Fit, our certified personal trainers will help you achieve results faster. We know that everybody is unique and therefore needs a customized exercise program. Many of our fitness members and Physical Therapy clients choose personal training as a continuum of achieving their personal fitness goals. Whether you are recovering from an injury, wanting to update a workout, challenge yourself or begin a fitness program, personal training is a safe and effective means to do so. Each of our trainers is specialized in their own unique way to fit your individual needs. Each provides their own rates that are customized to fit your needs. If you are interested in Personal training, please visit our Personal Training page for more information.
Golf Fitness/Rehab Program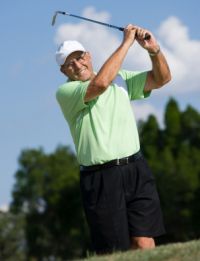 Why is this program necessary?
Nearly every golfer on the senior tour has suffered from back problems. This occurs because the game causes a lot of muscular stress on the many joints of the body. Years of play results in wear and tear on the soft tissue of the spine. The recreational golfer suffers even more stress because of infrequent play and constant mechanical changes in trying to find the perfect swing. From middle age on, we begin to lose the ability to rotate the shoulders and torso independent from the hips. The most common result is a shorter swing with less club head speed and less control.
How does the program work?
Personally Fit's program begins with a spinal assessment on the Med X Lumbar machine. This machine is the only apparatus of its kind that can isolate the movement of the spine and identify areas of weakness through the entire range of motion. Because of its ability to isolate spinal motion, the same machine is then used to strengthen the extensor muscles. The Rotary Torso machine allows us to assess the ability of the torso to rotate from right to left while stabilizing the hips. Since the golf swing is not an isolated movement but rather a chain reaction of collective muscular movements it is important to work on total flexibility. This is accomplished on the Med X Stretch machine. The final step is to evaluate the shoulder/rotator cuff function.
How long does the program take?
The program is seven weeks in length. The initial evaluation takes approximately one hour. Following the evaluation, you will be scheduled for two 20-30 minute exercise sessions per week for the next six weeks. At the end of the program you are re-evaluated to measure progress. The average golfer in this program will see up to a 200 percent improvement in all areas of deficiency. The net result is a more relaxed swing with a longer pain-free swing arc. This is now an ideal time to work with your golf professional.
How much does the program cost?
The cost of the program is about the same as an ultralite driver. These clubs have helped senior golfers add 20 yards to their tee shot. Imagine adding 10-20 yards for every club and playing pain-free well into your retirement years. The cost of the seven week program is $400.
If I cannot participate in the full program is there any other thing I can do?
Personally Fit offers an evaluation of all areas mentioned above with recommendations for a corrective home program. The program includes a one hour evaluation and two half hour follow ups. Cost is $150.
Medx - Strengthen Back Muscles and Eliminate Pain
Eighty percent of adult Americans suffers from low back pain. Back pain is also the leading cause of work disability for people 45 and younger. Through years of research, the MedX Lumbar machine was developed, proven and perfected by independent study at the University of Florida. Personally Fit's MedX rehabilitation program is designed to restore function, improve strength, and eliminate back pain, with results noted in just six weeks of participation!
Personally Fit promotes the use of MedX as an integral part of our spinal rehabilitation program. The program begins with an initial evaluation, which includes a computerized report of your test results, showing your back strength as compared to normal for your age and sex. This test takes 30 minutes to complete and can identify specifically where your back is weak and how to direct your rehabilitation program. Once we have determined that you can benefit from strength training, you will begin your training program. Over the next six weeks, you will rehabilitate the spinal muscles with dynamic movement against a balanced resistance, utilizing the MedX machine. Our trained MedX technicians complete this training, through a workout of increasing resistance, completed twice weekly. The workouts take approximately 10 minutes and can be completed in regular clothing. The initial program concludes with a re-evaluation of your strength to assess your progress.
Note: MedX can also be part of your spinal rehabilitation in physical therapy, which is covered by your physical therapy benefit through your health insurance. This coverage requires a prescription for physical therapy from your medical physician.
Pink Ribbon Program – Post Operative Workout Enhancing Recovery
Exercise may be the last thing you feel like doing after breast cancer surgery. However, recent studies indicate a link between moderated physical exercise and improved quality of life for breast cancer survivors. The Pink Ribbon Program is dedicated to promoting a healthy lifestyle and positive body image to all breast cancer survivors. The program will help stretch and strengthen the shoulder, chest, back and abdominal muscles, allowing women to regain full range of motion to those areas affected by breast cancer surgery. The Pink Ribbon Program is suitable whether your surgery was recent or several years ago and accommodates all fitness levels. For more information please visit www.pinkribbonprogram.com.
Benefits of the Pink Ribbon Program Include:
Reduces feelings of depression
Improves self confidence and control
Helps regain strength and mobility in the affected shoulder and arm
Enhances energy levels and alleviates fatigue
Assists in controlling weight
Improves Sleep
Decreases stress and tension
Enhances physical and mental well–being.
At Personally Fit we offer the Pink Ribbon Program via our certified Breast Cancer Exercise Specialist, Carrie Maruna, PTA. She implements an 8 week post-operative workout enhancing recovery for breast cancer survivors to help regain range of motion, strength and improve quality of life. This program is 30 minutes session two times a week.
Pink Ribbon Program $350.00
Parkinson's Program
Parkinson's disease can manifest itself differently in each individual. Here at Personally Fit we often treat individuals' at all different stages of the disease within our physical therapy services. We strive to assist in mobility, range of motion, balance and function of daily activities. Although our therapy services are beneficial, it has been found that group classes can add to the ongoing needs of those with Parkinson's. Under the instruction of Doris Flood, owner and physical therapist, this class is to provide a small group format with individual attention and compassion being our foremost goal. This class can provide opportunities to socialize and meet friends with similar challenges. This specialized class is designed to increase functional strength and power as well as improve posture, stability, balance, coordination, and speed of movement.
Class meets Tuesday and Thursday from 2:00 – 3:00 pm.
Parkinson's Class $ 10.00 per class. You need not be a member or patient to attend.
Massage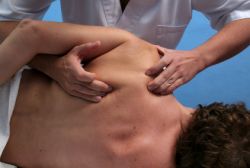 Dan Westfall is an independent contractor at Personally Fit working closely with the Physical Therapists and trainers. He gained his certification in Massage Therapy at Mueller College of Holistic Studies in San Diego in 1985. In 1989 Dan received his Holistic Health Practitioners certification and in 1994 was among the first to be Nationally Certified in Massage Therapy. Dan helped in opening the spa at the Rancho Bernardo Inn in 1989 and remained their senior therapist for 18 years. His work is geared towards assisting therapy and fitness efforts by helping speed the recovery process from exercise by reducing excessive muscle tension and pain, increasing blood circulation and the removal of wastes. His massage style is a combination of Swedish, Sports, Deep Tissue and Acupressure.
Each massage is tailored to the individual's needs, abilities, likes and dislikes. While therapeutic massage can sometimes involve discomfort, Dan prefers to coax a muscle to relax rather than beat it into submission.
Dan's rates are:
$50 - 1/2 Hour
$80 - Full Hour
$100 - 1-1/2 Hours
Please contact Dan directly for an appointment: