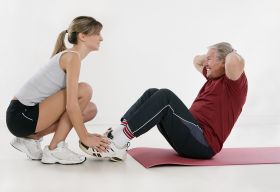 Here at Personally Fit, our certified personal trainers will help you achieve results faster. We know that everybody is unique and therefore needs a customized exercise program. Many of our fitness members and Physical Therapy clients choose personal training as a continuum of achieving their personal fitness goals. Whether you are recovering from an injury, wanting to update a workout, challenge yourself or begin a fitness program, personal training is a safe and effective means to do so. Each of our trainers is specialized in their own unique way to fit your individual needs. Each provide their own rates that are customized to fit your needs.
Personal Training is right for you if you are:
A beginner or inexperienced with fitness equipment
Wanting assistance with weight loss and nutrition with your fitness program
Transitioning from Physical Therapy or recovering from an injury
Experience balance or gait deficits and would like to enhance your confidence within the community
Sports Enhancement at any age and level including high school sports
Wanting personalized and individual attention to assist in achieving positive results
Give us a try! We are here to assist you with your lifetime goals!
For more information about our trainers and to inquire about their rates, please visit our Fitness Staff page or contact our trainers directly below.